Senator Martin Malavé Dilan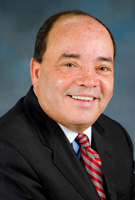 Elected to the New York State Senate in November 2002, Martin Malavé Dilan is serving his fifth term in the 17th Senatorial District. In an unusual twist for a Senate freshman, Senator Dilan was appointed the Assistant Minority Leader of Conference Operations. In 2007, Senator Dilan was appointed Chairman of the Minority Conference. Continuing his role as a leader, in 2009, Senator Dilan was appointed Senior Assistant Majority Leader. As a Senator representing Brooklyn, Senator Dilan continues his extraordinary career in public service. The 17th Senate District encompasses the North Brooklyn communities of Bushwick, Williamsburg, Greenpoint, Cypress Hills, City-Line, East New York, Bedford-Stuyvesant, and Brownsville.
Prior to being elected to the State Senate, Senator Dilan served ten years as a member of the New York City Council. During his tenure in the City Council, Senator Dilan distinguished himself as a diligent legislator, while maintaining a strong constituent services operation through his district office. As a council member, Senator Dilan wrote the law to aggressively penalize anyone found guilty of illegal dumping. He also was the prime sponsor of legislation that gave oversight powers to the City Council as it relates to city contracts that jeopardized city jobs.
Senator Dilan has a long track record of being an advocate for youth and senior citizen issues. He is well known in his community for being a strong supporter of education. His basic philosophy on education is that students must have the basic tools to achieve and level the educational playing field. Having served 14 years as a member of Community School Board #32, seven as Chair, Senator Dilan was instrumental in addressing overcrowding by advocating for new school construction. As a council member, he successfully obtained state of the art computers for every elementary school and middle school in his district, and was successful in obtaining $20 million in Capital Funding for Public School 89, the Cypress Hills Community School.
Senator Dilan has an impeccable reputation amongst his colleagues in all levels of government. As the City Council's Chair of the Standards and Ethics Committee, he advocated for greater access to information about conflict of interest issues among elected officials and government employees. As a former businessman, Senator Dilan understands the importance of economic development and business retention programs in New York. He is also a strong supporter of environmental causes, and the beautification and preservation of parks.
Senator Dilan grew up in the community of Bushwick where his parents, Esther and Gilberto, who migrated from Puerto Rico in 1947, instilled in him the importance of community service and cultural heritage. In 1965, the young and ambitious Martin first involved himself in electoral politics when he worked as a volunteer in a mayoral campaign before graduating from high school and going on to Brooklyn College where he participated in the Special Baccalaureate Degree Program.
Senator Dilan is a former legislative assistant for the U.S. House of Representatives and has served as a Democratic District Leader and Democratic State Committeeman from the 54th Assembly District. Senator Dilan has been elected 4 times as a delegate to the Democratic National Convention in 1996, 2000 and 2004. He is married to Debra Hicks and they have three children: Erik (a Council Member from Brooklyn, NY), Melissa and Nicole. In November 2008, Senator Dilan became the proud grandfather of his first grandchild, (Erik & Jannitza) Daniel Martin Dilan.