Assemblymember Philip A. Palmesano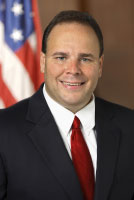 Assemblyman Phil Palmesano (R-C-I), was elected to the NYS Assembly in November 2010 and, was re-elected to his fifth term in 2018 as the representative of 132nd Assembly District. The 132nd Assembly District consists of a majority of Steuben County, all of Schuyler and Yates counties, and portions of Chemung (Catlin, Erin, Van Etten and Veteran) and Seneca (Covert, Lodi, Ovid and Romulus) counties.
Phil was born and raised in the city of Hornell and graduated from Hornell High School in 1987. Phil is a 1991 graduate of St. Bonaventure University, where he earned a bachelor's degree in Social (Political) Science.
Prior to his election, Phil worked for 15 years as a local aide for several of the region's most well-known and widely respected lawmakers at both the federal and state levels, including Assemblyman Donald Davidsen, Assemblyman Jim Bacalles, Congressman Randy Kuhl, and state Senator George Winner.
In his experience in public office, Phil was served in 2009 as the representative of the City of Corning (District 2) on the Steuben County Legislature.
Phil was appointed Deputy Minority Whip in 2019 and currently serves on multiple committees in the state Assembly He serves as the Ranking Minority Member on the Energy Committee. He also serves on the Corporations, Authorities and Commissions, Corrections, Insurance, and Ways and Means committees.
Additionally, Phil is a member of the bipartisan New York State Legislative Commission on Rural Resources, comprised of majority and minority members from the Senate and Assembly, who work together on a wide range of issues including agriculture, economic development, education, environment, land use, local governments, transportation, and health and human services.
Phil resides in Corning with his wife, Laura, and their two children.